Not only do we as adults love our trainers, but they are also a really practical and comfortable design for little ones' feet as well, making them a great shoe for toddlers. Designers seem to really understand this since each new season we often see miniature versions of adult trainers brought out in the cutest designs for them. For a child, a trainer is a great buy; they are robust enough to not wear out in a week, they are not too expensive considering how fast they will be growing, and they can offer just the right support for delicate growing feet. For every day wear, a pair of trainers is the way forward, but with so many designs to choose from, it can be bewildering to know where to start. To help give you some inspiration as to where you can find some cute kids trainers, read on to check out our favourite picks.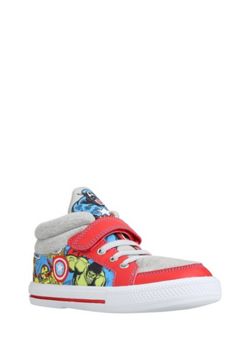 Just about every child in the country is a fan of superheroes and comic books these days, so why not choose these funky velcro Marvel Captain America hi-tops that will be ideal for a boy or a girl. They feature faux-lacing, a robust top velcro strap, and fun bright colours of course printed with their favourite Marvel characters. The high ankle will offer support and this are great whatever the time of the year. Despite being heavily brandy with the iconic comic book designs, don't worry that these are going to come with a hefty price tag; they are actually from the supermarket chain Tesco and cost just £15 so you can grab a bargain when you're doing your grocery shopping too!
We've talked about Converse before and we really are fans of their laidback shoe style so it's hardly surprising that we're going to endorse them once again for your little one's tootsies. Just like with the adult styles, they are loads of colours to choose from as well as a range of designs, but we love this relaxed low trainer in a popping bright orange that will look great for both boys and girls. It is just a really miniature version of a classic lo-top adult shoe and will look adorable on your mini-me. Available in some seriously tiny foot sizes, this cute little Converse shoe costs £24.99 and will look great this spring and summer.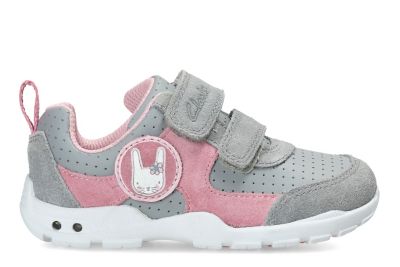 This shoe is pretty much one for the girls what with its baby pink colour and bunny rabbit detail, but don't be fooled and think that it is a flimsy sort of trainer. This design comes from one of the oldest shoe manufacturers in the world which is also a home-grown one, Clarks, which is a brand that is known for its great quality, comfort and attention to detail. In a soft mushroom grey combi-leather, this adorable trainer is part of their Binkies range which always features the bunny badge. A really comfortable and sturdy trainer, this also comes in half sizes, so it'll be perfect for your little one's feet.